Foe
: #3
Connecticut
Huskies (16-1) (5-1)

Recent History
: Villanova and UConn have been involved in some memorable games recently, including the season split in 2005-06 when both teams went on to earn #1 seeds in the NCAA Tournament, Scottie Reynolds' first 40-point game as a freshman in 2006-07, and Nova's 2-point win last season that ended UConn's 10-game win streak. UConn earned a 4-seed in the NCAAs last year but was upset in the first round 70-69 by 13-seed San Diego. This is essentially the same UConn team from the past two years, which Villanova has been
successful
against, winning both match-ups. This year's Huskies team is once again loaded with talent , but unlike the past couple of years, they have valuable experience. Senior power forward Jeff Adrien is a walking double-double (14.5 ppg, 9.4 rpg) , senior point guard AJ Price is averaging almost 5 assists per game, junior Jerome Dyson is an explosive scorer on the wing (13.1 ppg), junior Stanley Robinson is back with the team after missing the first eight games, Kemba Walker is a talented freshman, and of course 7-foot-3 junior Hasheem Thabeet is holding down things in the middle, averaging a double-double (13.4 ppg, 10.5 rpg), plus 3.7 blocks per game. Basically this team is stacked all around, well-deserving of their #3 national rank, and is a favorite to go to the Final Four.



Best Win: 88-83 vs. then #7 Gonzaga

Worst
Only Loss
: 74-63 at then #8 Georgetown

Famous Alumni
: Moby, Meg Ryan, Dan Orlovsky, Ray Allen, Hilton Armstrong, Josh Boone, Caron Butler, Rudy Gay, Ben Gordon, Rip Hamilton, Donyell Marshall, Emeka Okafor, Kevin Ollie, Charlie Villanueva, Marcus Williams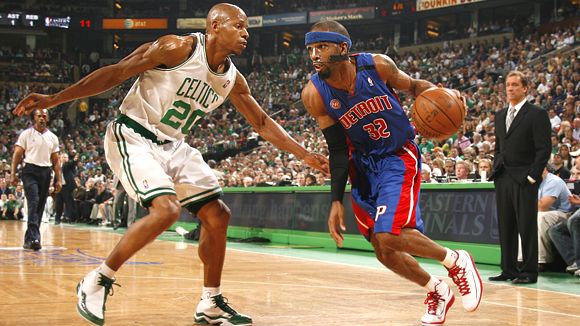 Fun Facts
:

UConn has won two NCAA titles: 1999 and 2004.
In 2004 UConn became the first Division I school to win the NCAA championship for men's and women's basketball in the same year.
In 2006 UConn had a record 5 players selected in the NBA Draft: Rudy Gay (8), Hilton Armstrong (12), Marcus Williams (22), Josh Boone (23), Denham Brown (40).
The 2006 instant-classic from the Wachovia Center. I loved this quote from Calhoun after the game: 
"They made 3s, Sheridan hit some tough baselines. I don't know what adjustments you'd like us to make for Allan Ray's 28-footers."
Final Verdict
: As I said above this is a very good UConn, and a win will be difficult, especially on their court, but Nova
definitely
has a chance. The Wildcats have had the Huskies' number lately with two wins in a row. Pena and Cunningham played well against Louisville's talented frontcourt and they will have to do the same against UConn's, which is even bigger. Corey Fisher needs to penetrate inside early to try to get Thabeet in foul trouble. Scottie Reynolds needs to be aggressive offensively, maybe not 40 points, but more than the last two games (11 vs. UL, 9 vs. SJU). Corey Stokes could be the x-factor. He had 18 points (4-7 3pt) in the win over UConn last year, but the past three games he has scored below his season average of 10 ppg. Stokes made 32 3-pointers in his first 11 games, but has only made 6 threes in Nova's past 6 games. It may be a tall order, quite literally, but if Corey and the rest of the Wildcats get hot, they can pull off the upset.