Nova News Big East Power Poll 1st Edition
1. UConn
- 8-0
Hasheem Thabeet has been a monster, even without the cornrows. The 7'3 center is averaging 14.5 points, 12.5 rebounds, and 4.1 blocks. With wins over Miami and Wisconsin, this team is loaded and will get even better when Stanley Robinson returns from injury. I'll ignore the close call to Buffalo for now.

2. Pitt
- 9-0
Pitt's teams are always boring and this one is no exception. Yet they're in the top 25 every year despite not having any top NBA talent.

3. Louisville
- 4-1
Like Nova they've had an easy early season schedule, but unlike Nova they LOSE at HOME by DOUBLE DIGITS to WESTERN KENTUCKY without COURTNEY LEE. I CAN'T STOP USING CAPITALS!!! I don't know if they deserve this ranking, but they're just too deep and talented to drop any further.

4. Notre Dame
- 6-2
Harangody has pneumonia, but the Irish might not need him with the way Kyle McAlarney and Ryan Ayers are shooting the ball. McAlarney hit 26 threes in three consecutive games, including 10 against the ridiculously good Tar Heels, who might actually go undefeated this season.

5. Your Villanova Wildcats
- 8-0
I can't wait for the showdown with Texas on Tuesday. Let's see what this team is made of.

7. Georgetown
- 5-1
Greg Monroe seems poised to grab the torch from Roy Hibbert and continue in the tradition of great Hoya centers.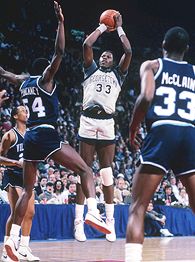 6. Syracuse
- 8-0
The Orange had impressive wins over Florida and Kansas. Devendorf and Rautins are back, Johnny Flynn has been awesome, but it still feels like they're missing something...

8. Marquette
- 7-1
Obviously Indiana is one of the premier coaching opportunities in the country, but don't you think Tom Crean wishes he had one more year with this team of James, Matthews, McNeal, and Hayward.

9. West Virginia
- 6-1
Joe Alexander should have stayed in school another year, but I guess you can't blame him for leaving early... he's making $2.4 million more than me this year.

10. Seton Hall
- 6-1
The Pirates had a nice win over the "post-Mayo" USC, and their only loss is to the "current-Tyreke Evans" Memphis.

11. Cincinnati
- 6-1
The Bearcats on the right path back to national prominence with a great freshmen class, but Cashmere Wright's injury may have killed their season. This team could be very dangerous in the future though.
12. DePaul
- 4-2
Dar Tucker is a stud (20+ ppg), but the Blue Demons were held to 36 points at Northwestern in an embarrassing loss.
13. St. John's
- 6-1
They're only loss is to BC, but Anthony Mason Jr. is out for the season. At least they're still in the running for
Lance Stevenson
.

15. Providence
- 6-3
Looks like it will be a long season at the Dunkin Donuts Center for new head coach Keno Davis.

14. Rutgers
- 5-3
Former Nova assistant Fred Hill is nabbing some big time recruits (Mike Rosario, Greg Echenique), but the Scarlet Knights already have home losses to St. Bonaventure, Lehigh, and Binghamton.

16. South Florida
- 3-3
Hey, at least they get to live in South Florida.